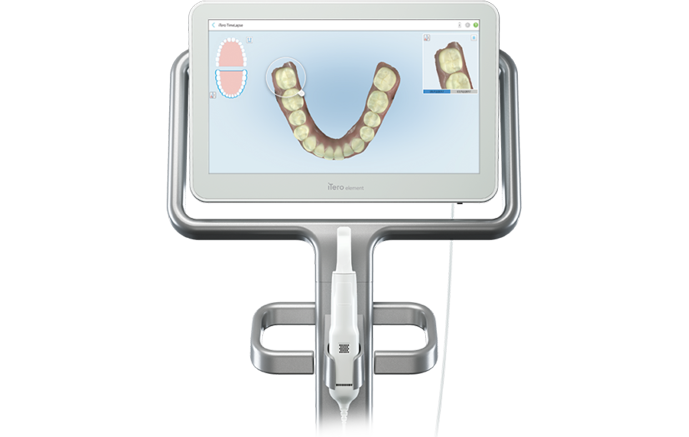 Have you ever had a dental restoration done or got an orthodontic aligner such as Invisalign? If so, your dentist must have made you bite into a gooey mass that retains the shape of your teeth. It acts as a mold to fabricate the restoration. This process is so hectic, uncomfortable, and doesn't yield the best dimensions and contour of the teeth. In case your mold gets messed up even just a little bit, then you will have to go through the whole process all over again! To save you from this messy and uncomfortable procedure, we have equipped our practice with a revolutionary dental device called the iTero Element.
What is the iTero Element?
The iTero Element is a hand-held, wand-like device used for scanning your teeth even while you sit comfortably on a chair. It is a state-of-the-art system that provides digital images of the teeth with high precision on a screen right next to you. With the use of iTero Element, the need for you to bite into a putty-like substance can be eliminated. Also, scans taken enable the dentist to achieve unlimited views of your teeth in 3D, which gives them a better understanding of the issue.
What are the advantages of iTero Element?
The process is very comfortable.
You wouldn't have to bite into a putty-like substance, which isn't really precise with providing the dimensions for fabricating the restoration.
The process is quick. The entire process of scanning the teeth of both jaws can be completed in a matter of under a minute.
If the scanning process is interrupted, such as if you need to spit or sneeze, it can be paused and resumed without any hassle.
The dimensions and contour achieved from the scans are highly accurate.
Several views of the teeth can be seen from different angles in 3D.
It is ideal for fabricating orthodontic appliances such as braces and Invisalign.
Reach out to us by scheduling an online appointment or by calling us at 707-428-3200, and we'll be happy to help.