Patients can now enjoy the benefits of the transparent, clear aligner, Invisalign for a straighter and happier smile.
Invisalign is a new-age orthodontic aligner that corrects teeth misalignments. Due to its compact and convenient technology, patients are now able to receive fast and effective results. Fairfield Orthodontics is a proud provider of Invisalign.
What are the features of Invisalign?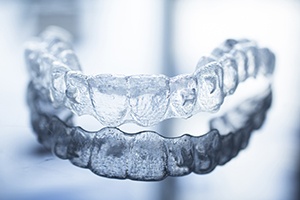 Orthodontic treatment has become more comfortable and patient-friendly with the help of Invisalign technology. Read more to understand its exclusive features.
•Effective results
Invisalign provides quicker and effective results as the clear aligner helps to shift teeth faster. With a prompt and accurate treatment plan, the dentist will ensure that your aligners are changed periodically. Invisalign clear aligners use SmartTrack® material and SmartForce® features to accelerate teeth movement into its desired position.
•Confidence Booster
Being virtually invisible, these clear orthodontic aligners are nearly hard to notice as you wear them thereby helping patients to smile with confidence even while in treatment. 
•Convenience
Not only is Invisalign a confidence booster but is also compact and removable making it the ultimate, patient-friendly orthodontic appliance to treat dental problems with ease. Being removable, patients can now brush and floss their teeth with ease. Its compact and custom-engineered design is smooth and comfortable on the gums that patients will not have to worry about loose wires or brackets as in the case of traditional braces.
What does Invisalign treatment involve?
The dentist will first examine the patients' teeth with an iTero digital scan to get a clear understanding of the dental setup. After planning out a proper and accurate treatment plan, the digital images of teeth will be sent to the labs where the customized clear aligners will be designed with the help of SmartTrack® material and SmartForce technology. 
As patients wear each set of aligners, teeth would gradually shift to its correct position. The orthodontist will advise the patient on an exact treatment plan with regular check-ups to ensure that the treatment is on track.
Contact us today to schedule your free orthodontic consultation.