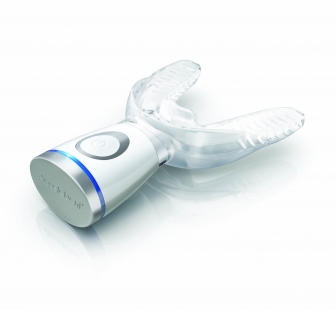 Be ready to reduce the period of your orthodontic treatment with the help of AcceleDent®.
Micro-stimulations of the bones have known to efficiently heal fractures and treat patients who are suffering from bone loss. It has also identified to remarkably improve bone density as well. The SoftPulse Technology® in AcceleDent® uses micro-stimulations to enhance the pace of orthodontic treatment of teeth by increasing the speed of root movement. 
What is the science behind AcceleDent®?
AcceleDent® is approved by the FDA. The orthodontic device aids in accelerating the pace of your orthodontic treatment. It involves using an orthodontic mouth-piece in between teeth while patients have braces or aligners on. As the device releases micro-pulse waves, it accelerates the cellular response from tissues of the tooth and increases the mobility of teeth shifting by re-aligning teeth to its proper position. Patients will have to use the mouth-piece for the prescribed period as AcceleDent® works its way in accelerating tooth movement.
What are the benefits of using AcceleDent®?
AcceleDent® has several benefits in serving patients who are undergoing orthodontic treatment. 
•    Clinically verified to reduce the duration of orthodontic treatment.
•    Patients experience utmost comfort during treatment.
•    Does not disturb the existing orthodontic device.
•    Ease of use as it requires no assistance.
•    Fewer appointments.
•    Patients can attend to other light activities while using AcceleDent®.
•    User-friendly and compact.
Contact us today to schedule your free orthodontic consultation.